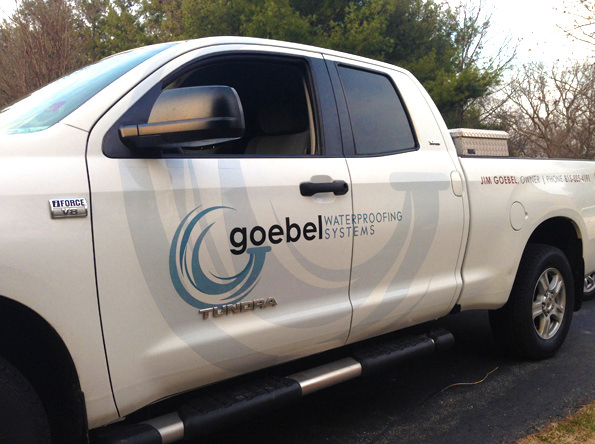 Want to express my ongoing appreciation for the excellent job you and your staff did in waterproofing my basement. It's been about 3 ½ years or so and each time we have a downpour, especially like the torrential rains we recently endured, I am especially grateful for the work you did.
With thanks,
Jean Wedgbury
Thank you very much for all the respect, kindness and professionalism you showed throughout my basement project. I greatly appreciate the courtesy shown to me, my Father and my home. Its always hard to have your home disrupted, but your friendly work crew made it much easier. They're a good group of guys! I'll certainly recommend your company to others.
— J. Palmer
I have been a very satisfied customer of Goebel Waterproofing for over 25 years. My first experience with using Goebel was only a couple years after building my home. There was a crack in one of the foundation walls allowing water to come into the basement. By just picking a company out of the phonebook I called Goebel to come out and seal the crack. I am sure glad I picked Goebel Waterproofing Systems! They not only sealed the crack in the foundation but 25 years later I am still water free in that spot. Recently I have experienced another crack in the foundation in a completely different area of my basement. Of course this crack has led to water coming in my basement. Without hesitation I called Goebel Waterproofing to seal this leak. As satisfied as I have been with the seal on the original foundation crack, I would never think of calling anyone else. — Sandy in Roscoe
"Not one drop of water in our basement after the two huge rains last week!! We know you have fixed them for good! Your employees were right on time and very professional. They did an excellent job! Again,thanks so much!" – Mr. and Mrs. H
This letter is to let you know how pleased I am with the project you did for me about 8 or 9 years ago. The stoop of my home was tilted and allowed rain to enter my basement and my driveway was deteriorating due to age. When the home was built in 1975, improper footings were used for the stoop and the asphalt driveway was beginning to crumble. You gave me an estimate for replacing the stoop, sidewalk and driveway in cement. You explained what you would be doing and the strength of the cement to be used.
The project was completed in a timely manner with a crew that knew what they were doing and cleaned up to my satisfaction when completed. You gave me proper instructions on when I could drive on it and how to seal the cement. I use Vocomp-20 liquid sealer that you recommended and apply with a sprayer each year.
Even though the installation was done these many years ago, I still get complements on the condition of my driveway. It looks as good today as it did when you first installed it. In fact, last year, I had some lumber delivered to my home and the driver of the delivery truck asked if he could back onto the driveway. He thought it was recently poured and didn't want to drive on if it was cured yet.
Thanks again for a great job. I would be more than happy to recommend your company for your services.
Sincerely,
D. Pflipsen
Jim-
Thank you for your candidness regarding our water solution. I appreciate the information you offered.
It's easy to see why you've been in the business for 50 years!
Thanks again,
Judy